The New and The Old, Still Purple
So the New Year is finally here ... and I happily have kicked the Old Year to the curb (seems to be a trend over the last couple of years, doesn't it?) Although, despite my best attempts to think that something dramatic changed at 00:01 a couple of days ago, I don't really think it did.
BUT.... My New Year's Eve soirée went off quite well. I have a TON of food left though. What's with you people? Don't you ever eat?
So I am back to my current obsession of picking paint chips and trying to nail down a color scheme for the master suite. I found the most fantastic bedding, but they do not make it for the dinky bed I was forced to buy when I moved into that match box I used to live in. I am tempted to buy it "for the future" while it is on sale for nearly half price but the rational me has thought better than to spend currently tight finances like that. But look at how comfy it looks!!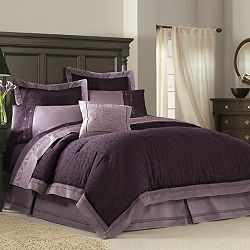 And the idea of suede finish paint in the bedroom just sounds divine ... but then that brings us back to the problem of high ceilings and faux finishes. Dammit!

Posted by Princess Cat at January 3, 2007 12:15 PM @ 12:15 PM in SSDD // Permalink | TrackBack