House Centipedes Must Die
I am aware that these little bastards are generally harmless but wtf are they doing in my house?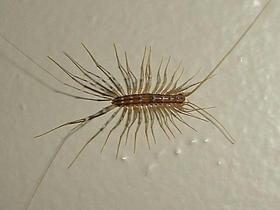 They are supposed to like dark, damp places ... my bedroom is anything but damp and dark. Remember ... I have an entire wall of window through with the fire of Hades warms my room to the temperature of the sun.
To get rid of them you're supposed to seal cracks in the walls. Well we sure do have our fair share of cracked walls (and doorframes) ... Not to mention windows with a layer of sand on the sills because they don't seal, a door with a gap that allows moisture into the entryway, and water damage on one of our ceilings ... I think I've figured out how they are getting in!
Seriously, I don't care how many spiders they eat ... in my house, they die!
Posted by Princess Cat at July 7, 2006 03:34 PM @ 03:34 PM in All Things Evil // Permalink | TrackBack