The Office is No Place For a Kink-Fest ... Unless My Salary Seriously Goes Up
Cuz I've Found The Perfect Shoe
Ok ... seriously ... WOW
Amazon has truly shocked me. I don't really know why, but in searching for shoes today on Amazon ... I was shocked.
And educated.
I had no idea there were so many different types of fetish shoes. Nor did I realize that searching for my size shoe would bring so many of them up.
I have huge feet. I know this. I'm ok with this ...
My long toes come in very handy - and when you least expect it ;-)
Clodhoppers serve to provide a more painful whoopin when someone has it coming. There ARE advantages...
... Except when it comes to shoe shopping. Open toed shoes are less of a problem, but closed toed shoes ... freakin' nightmare. This is why I not only looked like a moron and wore strappy black sandals to my grandmother's funeral in February, in Kansas, but have spent days with shoes full of blood and carry rolls of athletic tape in my work bag.
Seriously though Amazon ... Buying shoes on the internet is hard enough. Do I really have to search through all the freaky sex shoes to get to what I need? And do I really need to be reminded that there are people out there with the time and money to buy/need freaky sex shoes while I am looking for "sensible" business shoes?
Not fair.
And I do not want to know where the heel of this shoe has been...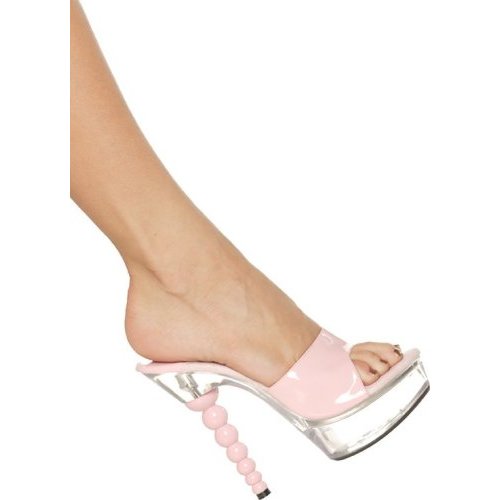 Posted by Princess Cat at April 20, 2007 05:36 PM @ 05:36 PM in What the Crap? // Permalink | TrackBack