Jarhead Red
Seems that I'm pretty late to the party on this one but I'll write about it anyway ...
I love to walk through the wine section of my local store, sometimes because I feel the need for a bottle or two and sometimes because I just love to laugh at the crazy labels people are putting on things these days.
Tonight, this one caught my eye: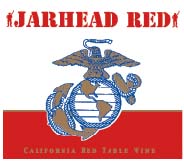 From their bottle (and site Jarheadred.com):
Jarhead Red is a wine made by Marines, for Marines, at Firestone Vineyard on California's Central Coast. Net proceeds from the sale of this wine benefit the Marine Corps Scholarship Foundation, which provides educational assistance to children of U.S. Marines, with special attention given to children of fallen Marines. (www.Marine-Scholars.org)
Adam Firestone – CAPT USMC 1984-91 (Winegrower)
Ruben Dominguez - SGT USMC 1979–84 (Vineyard Foreman)

Seemed to be reason enough for me to buy the wine.
Besides, everyone needs to have a little table wine laying around. And getting your buzz on while doing your part to help out the Marines just makes it that much more rewarding.
Jarhead Red is available for sale online to: CA, CO, ID, IL, IA, MN, MO, NV, NM, ND, NY, OH, OR, TX, WA, WV, WI & WY (states not listed may have local retailers instead)
I'll let you know how I like it once I pop the cork later this week ...
Posted by Princess Cat at July 3, 2006 12:20 AM @ 12:20 AM in Milblogging // Permalink | TrackBack