Veteran's Day
It's a bittersweet day in my kingdom...
I had planned to spend my day visiting wounded troops at Walter Reed Medical Center here in DC but my guide decided it was not a good day to go... I have to admit, I'm more than a little bummed to have my chance to give back on such a great day yanked out from under me. Yes, I'm that selfish sometimes.
But the cancellation was for a very good reason... seems most of the people she had planned to see are gone for the weekend. I am more than happy...no delighted...to have my plans scrapped if it means that these warriors are getting to spend the weekend outside the hospital with their friends and family. Their opportunity to have that means far more than my opportunity to say thank you. I will say thank you on another day...on many other days...
And nothing is a more lasting thank you than a donation to a good cause. Valor-IT is still raising money for the voice activated laptops and every cent counts toward getting them to those in need. If you don't think you have the cash to donate, go check your couch cushions and the floor of your car...you might be surprised what can be done with what feels like so little...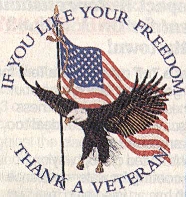 And a special thank you to my Grandpa Charles. I wish that life had not taken you away so soon. Knowing who you were and what you gave to our country would have meant so much.
Posted by Princess Cat at November 11, 2005 11:32 AM @ 11:32 AM in Good Times // Permalink | TrackBack