It's MY White House Now
You know, it's about damn time someone recognized me as the rightful leader of this country!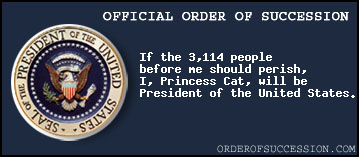 But what's with all these posers ahead of me? Whatever...here's the plan...
First I have to kill Eric, and then VW...and then all those other people in my way.... and then ... if I can avoid being framed for the mysterious disappearances of these imposters ... THE SEAT OF ULTIMATE POLITICAL WORLD DOMINATION WILL BE MINE!! MUHAHAHAHA!
How long will you have to wait? Check here ... but be forewarned... I'm one tough bitch to kill.
Posted by Princess Cat at August 20, 2005 11:59 AM @ 11:59 AM in All About Princess // Permalink | TrackBack