December 07, 2006
Holiday Eating Tips
My cousin just emailed this to me ... and as I was laughing, I couldn't agree more (especially with #4 after my other cousin's wife made me make the mashed potatoes at Thanksgiving with skim milk ... eeck)

Holiday Eating Tips

1. Avoid carrot sticks. Anyone who puts carrots on a holiday buffet table knows nothing of the Christmas spirit. In fact, if you see carrots, leave immediately. Go next door, where they're serving rum balls.

2. Drink as much eggnog as you can. And quickly. Like fine single-malt scotch, it's rare. In fact, it's even rarer than single-malt scotch. You can't find it any other time of year but now. So drink up! Who cares that it has 10,000 calories in every sip? It's not as if you're going to turn into an eggnog-aholic or something. It's a treat. Enjoy it. Have one for me. Have two. It's later than you think. It's Christmas!

3. If something comes with gravy, use it. That's the whole point of gravy. Gravy does not stand alone. Pour it on. Make a volcano out of your mashed potatoes. Fill it with gravy. Eat the volcano. Repeat.

4. As for mashed potatoes, always ask if they're made with skim milk or whole milk. If it's skim, pass. Why bother? It's like buying a sports car with an automatic transmission.

5. Do not have a snack before going to a party in an effort to control your eating. The whole point of going to a Christmas party is to eat other people's food for free. Lots of it. Hello?

6. Under no circumstances should you exercise between now and New Year's. You can do that in January when you have nothing else to do. This is the time for long naps, which you'll need after circling the buffet table while carrying a 10-pound plate of food and that vat of eggnog.

7. If you come across something really good at a buffet table, like frosted Christmas cookies in the shape and size of Santa, position yourself near them and don't budge. Have as many as you can before becoming the center of attention. They're like a beautiful pair of shoes. If you leave them behind, you're never going to see them again.

8. Same for pies. Apple. Pumpkin. Mincemeat. Have a slice of each. Or, if you don't like mincemeat, have two apples and one pumpkin. Always have three. When else do you get to have more than one dessert? Labor Day?

9. Did someone mention fruitcake? Granted, it's loaded with the mandatory celebratory calories, but avoid it at all cost. I mean, have some standards.

10. One final tip: If you don't feel terrible when you leave the party or get up from the table, you haven't been paying attention.


And always remember this motto to live by:

"Life should NOT be a journey to the grave with the intention of arriving safely in an attractive and well preserved body, but rather to skid in sideways, chocolate in one hand, martini in the other, body thoroughly used up, totally worn out and screaming "WOO HOO what a ride!"
Posted by Princess Cat at
09:22 AM
|
Comments (5)
|
TrackBack
November 22, 2006
Move over UPS - I Do Mornings Too (sometimes)
I think I did more damage to my kitchen by 8am today than most people do all week.
2 apple breads, 3 pies, 2 casseroles ... all in various stages of done-ness

Oh, and have I mentioned I'm not packed yet?
I'm leaving town this afternoon to see the good family and off to see the bad family on Saturday (ugh) for the trial that starts Monday.
Be back in a week. Be good (Santa's watching)
Posted by Princess Cat at
08:46 AM
|
Comments (6)
|
TrackBack
November 17, 2006
Cheaper Than Therapy
Cooking and baking - my personal little escape-from-hell therapy
In the past couple of days I have done:
-chicken pot pie stew
-peanut butter cookies
-pumpkin chocolate chip cookies
-pumpkin bars
-pumpkin walnut roll
Next week, a bunch of Thanksgiving cooking and baking!
I'm not sure if it really ends up being cheaper than therapy, but it is definitely a lot more fun. Even with the dreaded cleaning that it requires.
Posted by Princess Cat at
04:44 PM
|
Comments (7)
|
TrackBack
October 16, 2006
Baby, Take Me On A Journey
I've Been Thinkin Lately I Could Use A Little Time Alone With You
Perhaps there are days when I am wound just a little too tight. So I try to keep myself sane and find my victories, my moments, my pleasures in the small things.
Today's pleasure:
Asian Pear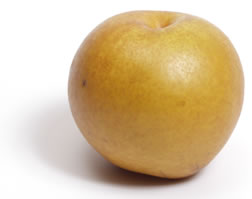 Simple. Sweet. Juicy.
How could anything be more perfect?
Posted by Princess Cat at
01:29 PM
|
Comments (1)
|
TrackBack
October 05, 2006
Scotcharoos
UPDATE: This went over FANTASTICALLY at today's outdoor festivities. I suggest the next time you want some sugary, gooey goodness without using the oven ... seriously, give these a try.
Yummy, delicious, kill-ya-dead-on-the-spot Scotcharoos.
They sound like some kind of alcoholics dream, don't they? But I didn't get the recipe from either of the Scotch Afficiandos that I know, so there must be some other recipe that is a scotch drinkers second vice.
Nope, this is a recipe passed down to me and traceable to the hands of my great-grandmother, who I never met. I have no idea where she got it from but I've heard it had a pretty popular hayday back when.
1 cup sugar
1 cup light corn syrup
1 1/4 cup smooth peanut butter*
6 oz Rice Krispies (half a 12 oz box)
1 sm package of chocolate chips
1 sm package of butterscotch chips
* you can reduce this to 1c, the extra makes for a softer treat at the end
** It helps to have everything pre-measured or pre-poured prior to starting the recipe as sugar burns easily and gets difficult to work with as it cools.
In a 3 Qt saucepan, gently heat sugar and corn syrup until the sugar melts. Remove from heat and stir in peanut butter. While still warm, add half the Rice Krispies to the saucepan and mix. Continue mixing the sugar/cereal mixture with the remaining cereal in a large bowl. Mix until combined.
Press the mixture into a well buttered 9 x 13 pan. Glass is the best type of pan to use for this.
Melt the chocolate and butterscotch chips together. Pour over the cereal mixture and smooth.
Allow to cool slightly, refridgerate, and cut into squares.

I made these tonight and I'm waiting for the chocolate to set up in the fridge ... just the leftover bits and pieces were so yummy. Come on, peanut butter, butterscotch, and chocolate all in the same crunchy, chewy little bar ... that's just heaven waitin' happen. I can't wait for the finished product!!
Posted by Princess Cat at
12:11 AM
|
Comments (20)
|
TrackBack
July 19, 2006
Move Over Godfathers
When I was a kid, I loved taco pizza from Godfathers Pizza. Within a 50-mile radius, I can't find a damn one of those restaurants now. So a couple nights ago, I endeavored to make my own …
Taco Pizza
1 unbaked pizza crust (from a can, cuz I'm lazy)
1 sm can of Mexican tomato sauce (Goya or Pato, slightly spicy)
1 lb lean ground beef
1 packet taco seasoning
¼ cup water
2 cups shredded cheese (Mexican blend pref)
3-4 sm handfuls of white corn chips, lightly crushed (not thin restaurant style ones)
1-2 cups of fresh style salsa (like pico de gallo)
1 handful of chopped tomatoes
1 can sliced black olives
Shredded lettuce, enough to cover the whole pizza
Preheat oven to 400 degrees.
Line a jellyroll pan/cookie sheet with sides with foil and lightly spray with nonstick spray. Gently press pizza dough into the pan, attempting to create sides that will hold the toppings in. Bake for 8 minutes (Follow the specific instructions on the pizza crust of your choosing).*
While the crust is baking, brown ground beef. Add seasoning packet and 1/4c of water. The powdered seasonings will need to dehydrate, so add more water if necessary, but the meat should not end up with much liquid.
Remove pre-baked crust from the oven. Pour Mexican tomato sauce onto crust and spread evenly to the edges. Repeat with the seasoned meat mixture. Sprinkle 2/3 of the cheese evenly as the next layer. Add a layer of crushed corn chips. Sprinkle about half of the remaining cheese over the chips. Return the pizza to the oven for another 6-8 minutes, or until crust is brown and cheese is bubbly.
Allow the pizza to sit and cool for a few minutes before continuing.
Spread salsa over the top of the pizza, taking care to separate the salsa from its liquid. Top the salsa with a dense layer of shredded lettuce. Add chopped tomatoes and black olives, to taste. Finish with the last bit of shredded cheese.
Cut and serve. For an extra bit of spice and taco flavor, top slices with a dash of hot sauce. Also good is a hint of ranch or sour cream.

I promise, you will not be disappointed by this pizza.** It wasn't Godfather's exactly but it was so tasty I don't care. And it totally kicks ass cold the next day!

*For a thicker crust, use a smaller pan. Using a pizza stone, deep dish pan will work just fine. If your crust starts as a ball of dough, make the pizza whatever shape you like – being careful not to overwork it.
**Remember, its pizza … you can make it however you like your pizza because there are not rules in this game. Try adding diced chilis to the meat or hot sauce to the tomato sauce or jalapenos to the salsa for more kick.

Posted by Princess Cat at
12:50 PM
|
Comments (11)
|
TrackBack